by Nicky Ogilvie | September 7, 2020
The 2020 Waiheke Walking Festival
11-29 November 2020
We're counting the sleeps until the 2020 programme goes live. Keep an eye on your inbox for that announcement, coming soon.
And in the meantime, here are some other things we're counting:
11 weeks until the first step is taken in the Waiheke Walking Festival
Over 55 walks all over Waiheke
Over 60 volunteers – and still counting
Over 20 walks that include wineries or restaurants
A lot of aaaaahhhhs as people sit down after an exhilarating walk at the Waiheke Walking Festival
We love Make Tracks mission: Find your happy place.
Make Tracks is one of our major sponsors – and Gary Wilton is their head happy place finder!
Gary knows Waiheke and the Gulf Islands: he started the Waiheke Walking Festival back in 2010; he managed the Gulf Islands' parks and reserves for 11 years and now – quite simply – he likes to help you find your happy place.
Gary and his team come to your home and help you develop tracks or places that you get to walk, see and love. While you might see a green wall of trees – Gary sees places to discover and open up for you.
Gary lives, walks and breathes Waiheke – so he and the team have decided to offer a Good Friday every month. He'd like you to nominate a project – something which would take a day's work to complete. Is there someone in the community on Waiheke who needs some work on their land – such as steps put in, a track to a special resting place? Maybe an organisation that needs a bit of Make Track's expertise? Email us (info@waihekewalkingfestival.org) your nomination and we'll share it with Gary.
The Festival and COVID-19
While we've always had a focus on health and safety, this year, we've also had to take into account keeping people – our volunteers and our walkers – safe during a pandemic, and responding to Covid-19 Alert Levels. So, we're implementing some extra safety precautions, and doing our best to plan a Festival that can go ahead, if we're in a lower level of COVID Alert.
These precautions include extra training for volunteers, limiting walker numbers on each walk more than we have in previous years, having hand sanitiser available, and working with our restaurant partners on appropriate seating plans.
While we don't know what the future holds, you can be assured your safety and that of our volunteers is our priority – and we will always err on the side of safety. In the meantime, we are planning a Festival that's a little bit different, while still full of all the experiences you love.
New walks and double ups for the Festival!
We have a real mix of new and favourite walks for the Waiheke Walking Festival this year.
We always try and mix up the walks on offer to keep things fresh but know that we would probably receive a lot of "feedback" if we took out some of our crowd favourites!
This year we bring you two different versions of the 100km Te Ara Hura track, the path of discovery which takes you all around our Island. We have the Ray White Te Ara Hura 9-day walk (which is easier on the knees and breathing) and the 5-day version – an ideal choice for those willing and able to walk approximately 20km per day for 5 days. You can choose individual walk days on the 9-day version, but need to commit to all 5 days if you're going to pick the 5-day walk.
We've also doubled up on some popular walks from the last years – like the Progressive Lunch Walk which takes you through 3 of Waiheke's restaurant/winery icons for a course and glass of wine at each place.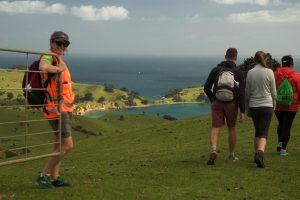 Bookings go live for the public on – October 1st
Our Friends of the Festival get early access approximately 2 weeks before. For just $100 to join, you also get to support an event which is all about walking, community and Waiheke's unique natural environment.
Just go to click here to join up as a Friend of the Festival today.
Happy walking everyone and we're counting down until we see you soon.
Your Waiheke Walking Trustees and Festival team
Tess, Linda, Mandy, Judy, Vicki and Nicky