by | September 11, 2020
BIG News – It's here! 
 The 2020 Waiheke Walking Festival Programme is Now Live. 
 Go to www.waihekewalkingfestival.org to browse this years' fabulous walks.  
You can download a printable programme too. Start highlighting and messaging walk buddies to see if they want to come join you. 
This year we have 57 walks and events – 33 are FREE! Bookings will go live on October 1st.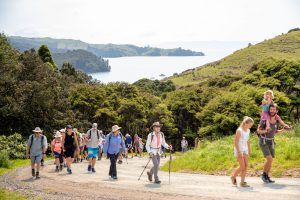 Friends of the Festival get  early access booking on September 17th.  
For just $100 to become a Friend, you also get to book 10 walk spots, instead of 6, and to support this wonderful community festival.  
Go to www.waihekewalkingfestival.org to join up as a Friend of the Festival  today. 
COVID-19 Restrictions: To keep our volunteers and our walkers safe, we will be adhering to all government requirements prior to and during the Festival. We are able to operate at restriction levels one and two. We cannot hold the Festival in level 2.5 or higher. If Auckland is in level two and other regions are in level 3, we will refund those people who live in a restricted region.  
We are limiting the numbers of walkers on each walk. Please if you are unwell, stay away (in the kindest way).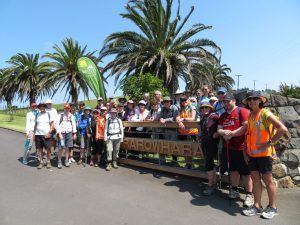 The Te Ara Hura 100km Five Day Adventure is now open to book! 
Book this amazing walk experience now, so you have time to sort your accommodation J  
 Join guides Linda Simpson and Anna Brealey for this five day, 100km Te Ara Hura walking adventure which will see you circumnavigate Waiheke.  You will be walking 5-7 hours every day at a moderate pace to complete 20km per day, so a good level of walking fitness is required. Sign up to complete all 5 days. This walk is not available as individual days – see the RAY WHITE Te Ara Hura 9-day for other options. 
A note on walk costs… More than half of our walks are free but the others have associated costs e.g. transport charters or wine tasting. This is clearly marked on each walk on the website. This year we have created some premium walks. These walks most often include private land access, food and wine bookings, and charter buses, and are experiences only available through the Festival. We charge a $10 Premium Walk fee per walker in addition to the third party costs for these walks. This fee goes directly towards the costs of running the Festival. Thank you for your support.  
What a wonderful 2020 Festival we will have!
Thanks for your Waiheke Walking Festival team.